This object is in archive!&nbsp
Unreliable stockpiling of small-grid hydrogen tanks
This is does sadly not happen 100 % of the time, but once it does happen, it seems to continue to happen until most of the device is rebuilt. (Usually within 5-10 minutes experimenting at the longest.)
Place landing gear, o2 generator, power source, cargo container (optional).
Add small hydrogen tank ("tank 1") on o2 generator, observing conveyor connection.
Add ice to o2 generator and fill tank 1 to some extent. Turn off o2 gen.
Add hinge to tank 1.
Add second tank ("tank 2") to hinge.
Enter terminal and test stockpiling for tank 2.
Delete tank 2 and replace it.
Attempt to repeat step 6. Note how it is not pulling from tank 1.
Turn o2 gen back on. Note how it is happily filling tank 1 and 2 in equal flow rate.

Enable stockpiling on tank 2 while o2 gen is on. Note how o2 gen is now filling tank 2 only.
Power-cycle the whole device. Note how the symptom is gone.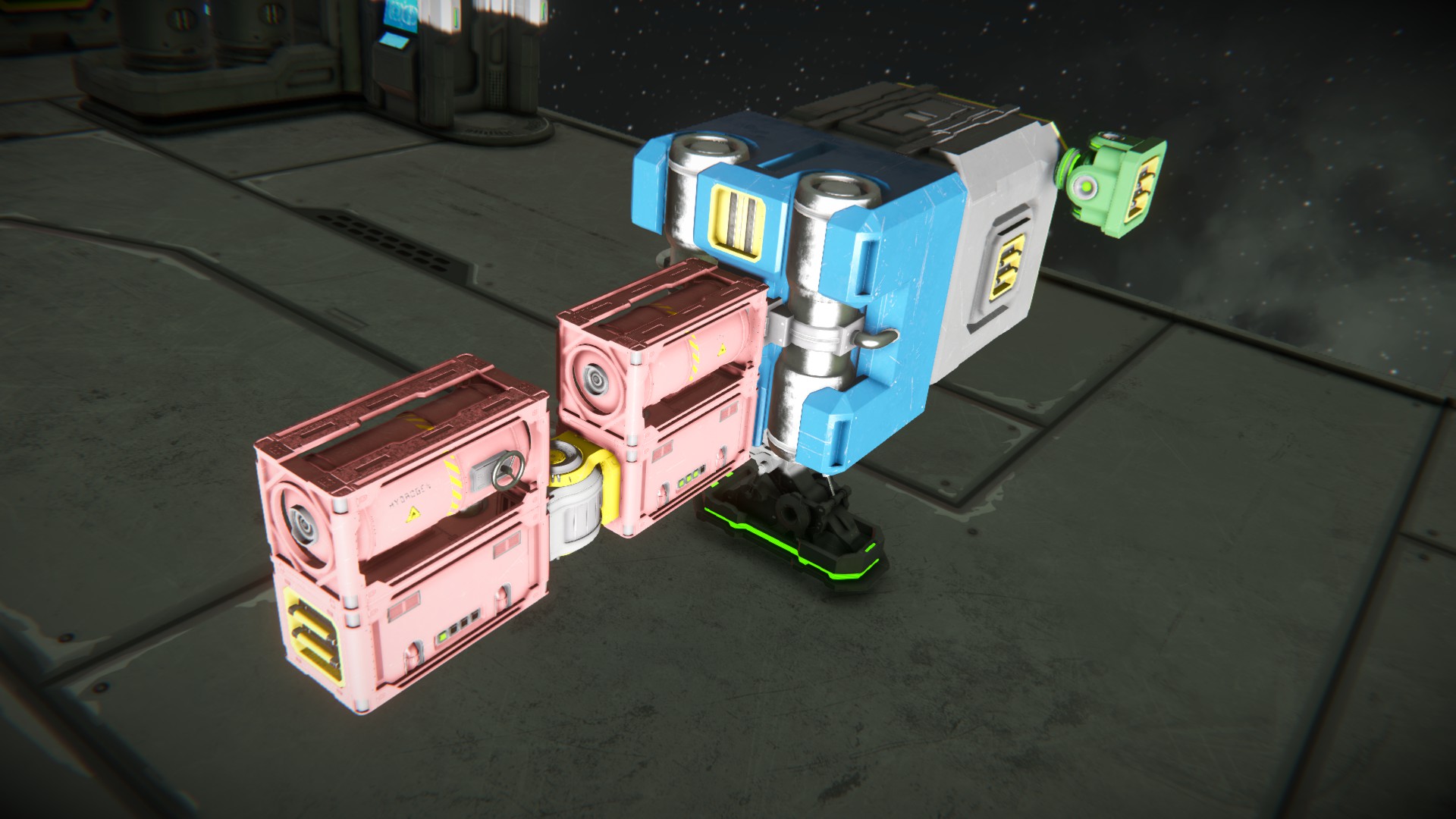 Things to try when this does not immediately happen:
Pull all the hydrogen back into tank 1 with stockpiling. (Remember to turn it back off.)

Use conveyors between the blocks instead of directly connecting them to each other.
Disconnect and reconnect the hinge.
Connect a new tank subgrid (including hinge head) to the existing hinge.
Rebuild the tank subgrid including the hinge base, not just the hinge head.

Add an additional hingehead-hinge subgrid between the tanks and disconnect and reconnect those.
Attached blueprint for illustration only. It may exhibit the issue immediately, it may not, or not ever. I recommend always rebuilding the device manually.
I have tried to narrow it down to a reliable set of STR but haven't been successful. When I found it happen with the one listed above, it was working for me twice in a row, so I thought I finally found the one, but it didn't happen the third time until messing with the grid enough (per recommended things to try).
I have also seen this symptom on tanks that were on the same grid as the generator where only the conveyor connection ran through a hinge that was disconnected and reconnected, but again, sadly not reliably often to list it as a definitive method to reproduce the issue.
Not sure whether this also happens with the large-grid versions or the large small-grid hinges. I did see the issue with the small-grid advanced rotor, too, though, FWIW.