This object is in archive!&nbsp
Suspension's Park switch also affects Handbrake function
The handbrake of a suspension is triggered in three ways:
pressing spacebar (by default)
Using the Handbrake switch in a control block
Using the Park switch in a control block (or pressing P)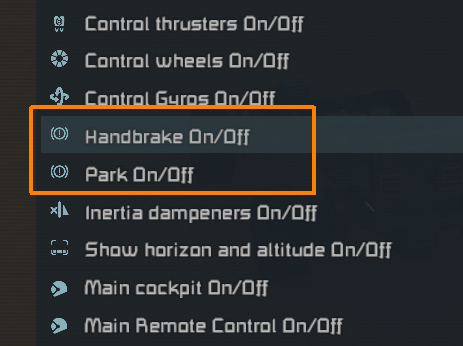 A suspension also has a switch that optionally excludes it from the Park switch. It is explicitly labeled "Allow parking brake" (not "Allow handbrake" or anything else), and its tooltip confirms this with "Is the block triggered by the parking signal?".
Problem: Using this switch not only excludes the suspension from "the parking signal", it also excludes it from the handbrake switch. Trying to use the handbrake switch while no suspension is present that allows parking results in a message, "Cannot engage handbrake".

Given how those switches are separately available, and how they are explicitly named with those distinguishing terms, I believe this is not intentional and either a bug or a left-over from before the parking distinction was implemented, rather than a feature. Suspensions should not stop reacting to the handbrake switch when they are excluded from the parking switch.