Suggestion: Comprehensive Weapons Rebalance: Let's Specialize Weapons for Specific Targets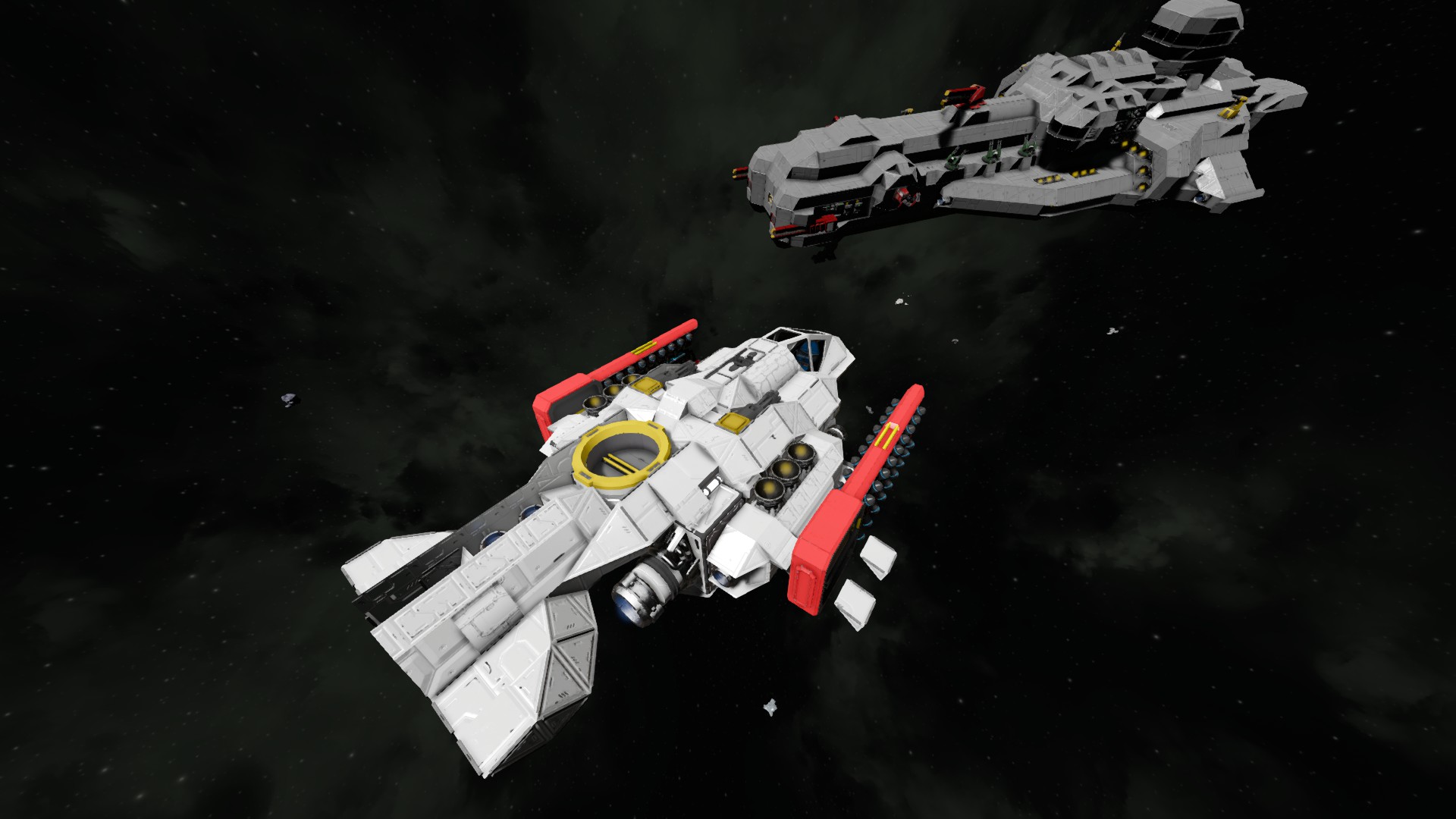 WEAPONS REBALANCE PROPOSAL
In this proposal I will suggest a weapons re-balance for all in-game weapons so they are less, or more effective against different categories of targets.
Currently, weapons in space engineers are very uniform.
In general, large ship weapons overpower both small ships and player characters with ease due to their accuracy and raw damage potential. Ranges are very uniform making tactical choices impossible.
If I can shoot it = it will shoot me, and very quickly and accurately.
The only method to avoid a turret is to break line of sight or change course constantly to avoid turret tracking.
Secondly, in a straight up fight, large ship gatlings will always win out against missile turrets or rocket pods. This means that large ship gatlings are currently the king of the hill when it comes to weapons in the game. And due to their accuracy and strength against smaller targets gatling turrets completely throw off the balance of combat.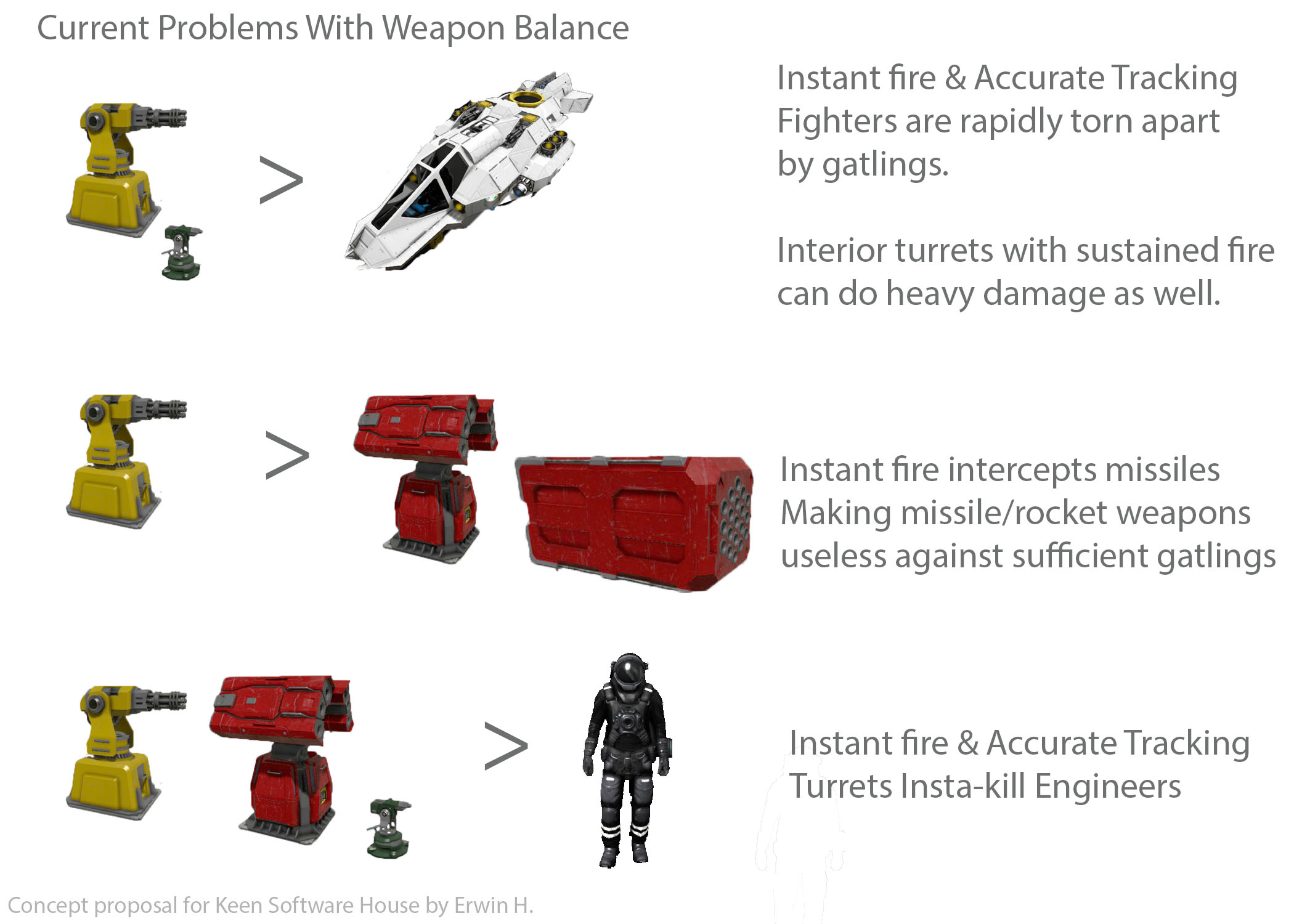 This is a problem I aim to address in this suggestion by proposing a series of systemic balance tweaks to existing weapons and by suggesting a few new weapons that may better fill their respective roles. This proposal should be uniform so any future or modded weapons can benefit from this and fit into the gameplay without being overpowered.
This proposal aims to do this by introducing 2 new variables into weapon effectiveness:
Turret Accuracy VS Target Maneuverability.
Weapon Damage Potential VS Target Class,
The idea here is that each weapon has a specialized Entity size that its is designed to target and track. Weapons are not prevented from targeting larger or smaller entity classes, but they will be less effective at doing so.
The reason for this is that I would suggest that weapons, and especially turrets should be balanced to fit a specific class, which in turn will bring forward and promote certain gameplay from players.
I will lay this out below.
2.Categories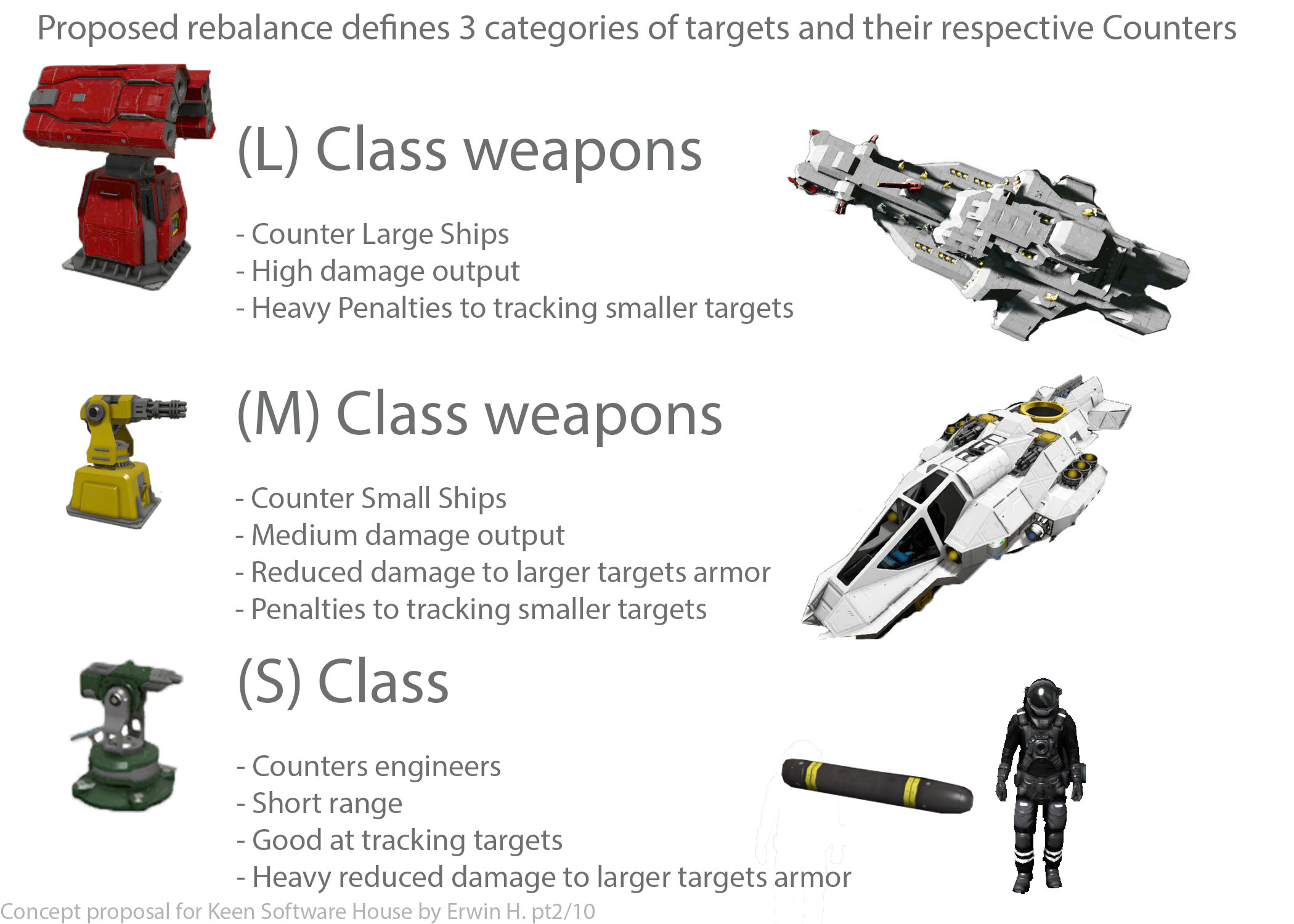 First is turret accuracy.
Weapons that are specialized against large or medium classes will take longer to start firing at a smaller entity class as they first have to establish a proper target lock. And they will be less accurate, as their target prediction will take longer to catch up if the target changed course.
As a result, a large turret firing at a small grid ship that is changing its flight vector, will find it harder to properly lead its target for a few seconds and likely miss. This allows the smaller target to dodge fire giving it the opportunity to do damage without being harmed.
However if the smaller target does not alter its course, after a moment the turret will catch up and will properly predict its targets movement and lead its shots like normal.
So it requires skill and vigilance from the fighter pilot so stay safe when under turret fire.
This means that an (L) weapon can easily track an (L) target, however it will have trouble tracking (M) and (S) class targets.
An (M Weapon) on the other hand has no trouble tracking (L) targets
3.Tracking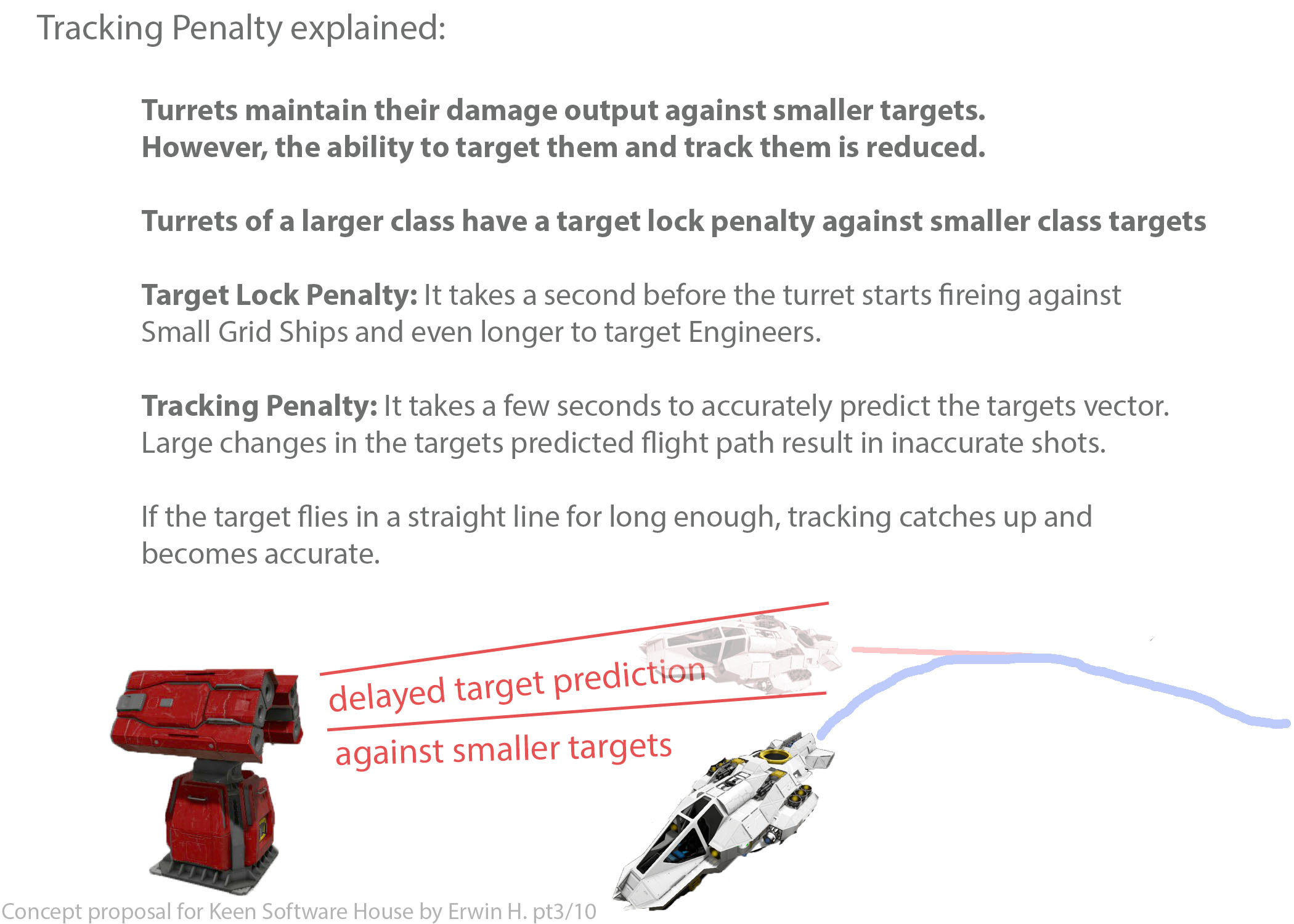 Next is Weapon damage VS larger class targets.
This change is meant to balance out lower class weapons.
Weapons that are specialized against smaller entities will find it harder to deal damage to the armor or larger classes.
An interior turret for example would do less damage to small ship armor blocks, and very little damage to large ship armor blocks. However against missiles or players, its designated specialization, Interior turrets would be very effective.
Smaller class weapons however will still be able to do damage to larger type non-armor blocks, like engines or turrets.
This means that a (S) Weapon is ineffective against (M) target armor blocks and will do no or nearly no damage to (L) target armor blocks.
However, a (L) weapon will do full damage to an (M) or (S) target, if it can manage a hit.
Weapon damage scales for the class the weapon is meant to counter.
Weapons of the (L) class should do generally more damage and be more brutal than the (M) class.
4.damage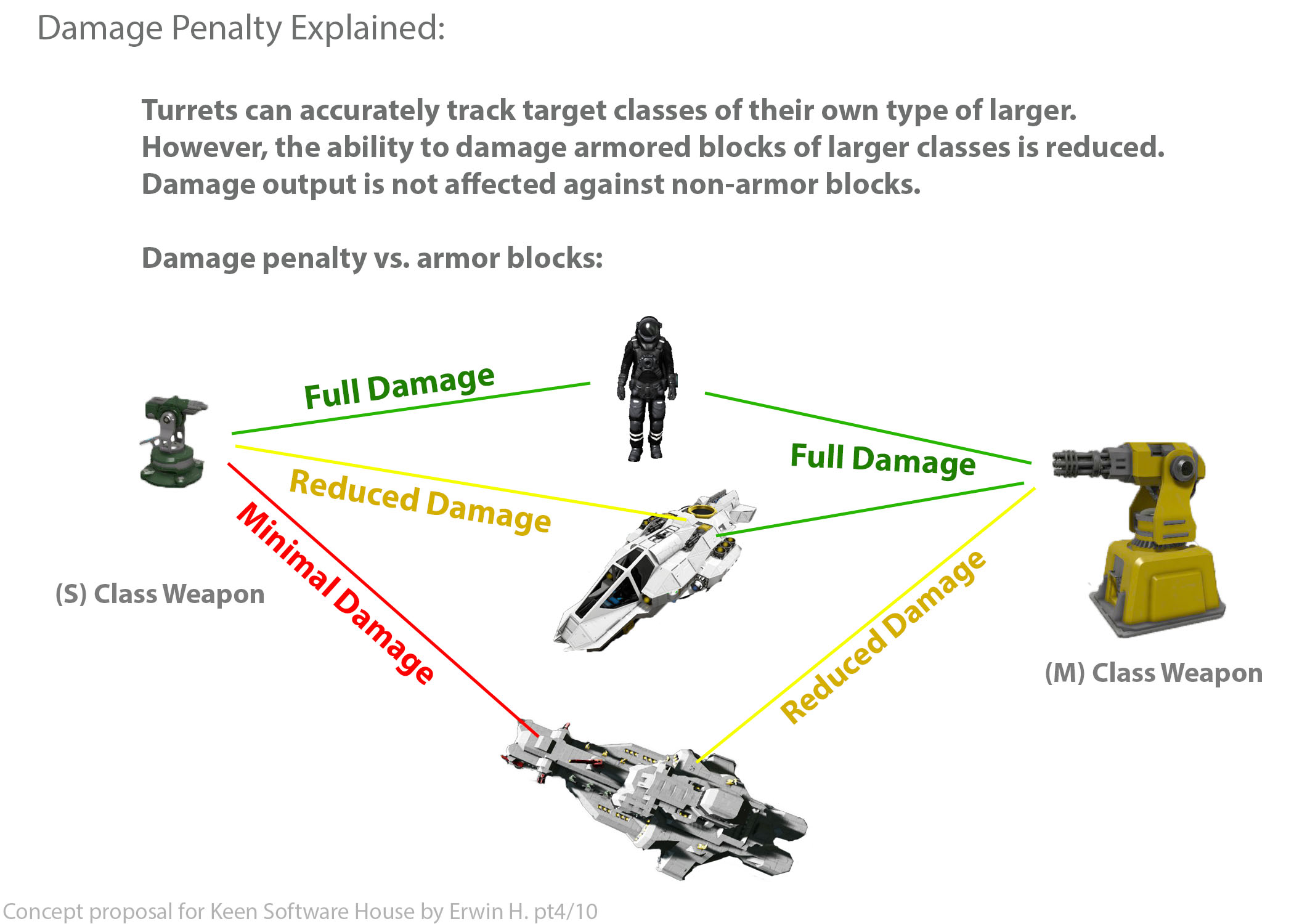 - Large ship Missile turrets become (L) type weapons.
They are meant to counter large ships and deal heavy explosive damage, their function is not changed much in this regard. However because they are (L) class weapons they are less effective at targeting or tracking (M) or (S) class entities when they are moving. Their range could be boosted to match that of the Railgun (L) turret defined below providing a soft counter to long range railgun sniping.
- Large ship Gatling turrets become (M) type weapons and will serve as point defense against fighters.
Their raw damage is reduced and they deal decreased damage to (L) targets armor.
However they are still effective at targeting non-armor components on large ships, like turrets and engines and will do low to average damage with sustained fire on target.
Against (M) targets such as small ships they will do moderate damage, enough to chip away at them but not tear them apart in 2 seconds.
They would not have trouble tracking missiles or meteors as they do not change course.
However as these are (S) targets they will need a second to acquire the target before opening fire, allowing cleaver missile users to exploit a small opening in their coverage.
(S) targets such as players can dodge their fire by changing course on approach.
Their range stays the same as before.
Because this suggestion removes the gatling turret from the large ship killer role
we need to replace its role as a large ship hitscan killer. For this I suggest we add a new type of (L) class weapon designed to puncture armor at pinpoint precision. Something like a rail-gun or artillery turret. (I prefer the rail-gun personally)
The weapon would have similiar issues tracking (S) and (M) targets and have a slow rate of fire. But pack a considerable punch. This will make large ship combat a lot more deliberate and less about spamming gatling fire. Rail-gun range will be longer than that of most other turrets, but their fire rate is low, meaning they will be able to do damage, but not be overpowered. Their power draw when reloading should prevent players from spamming these turrets on their ships.
5.railgun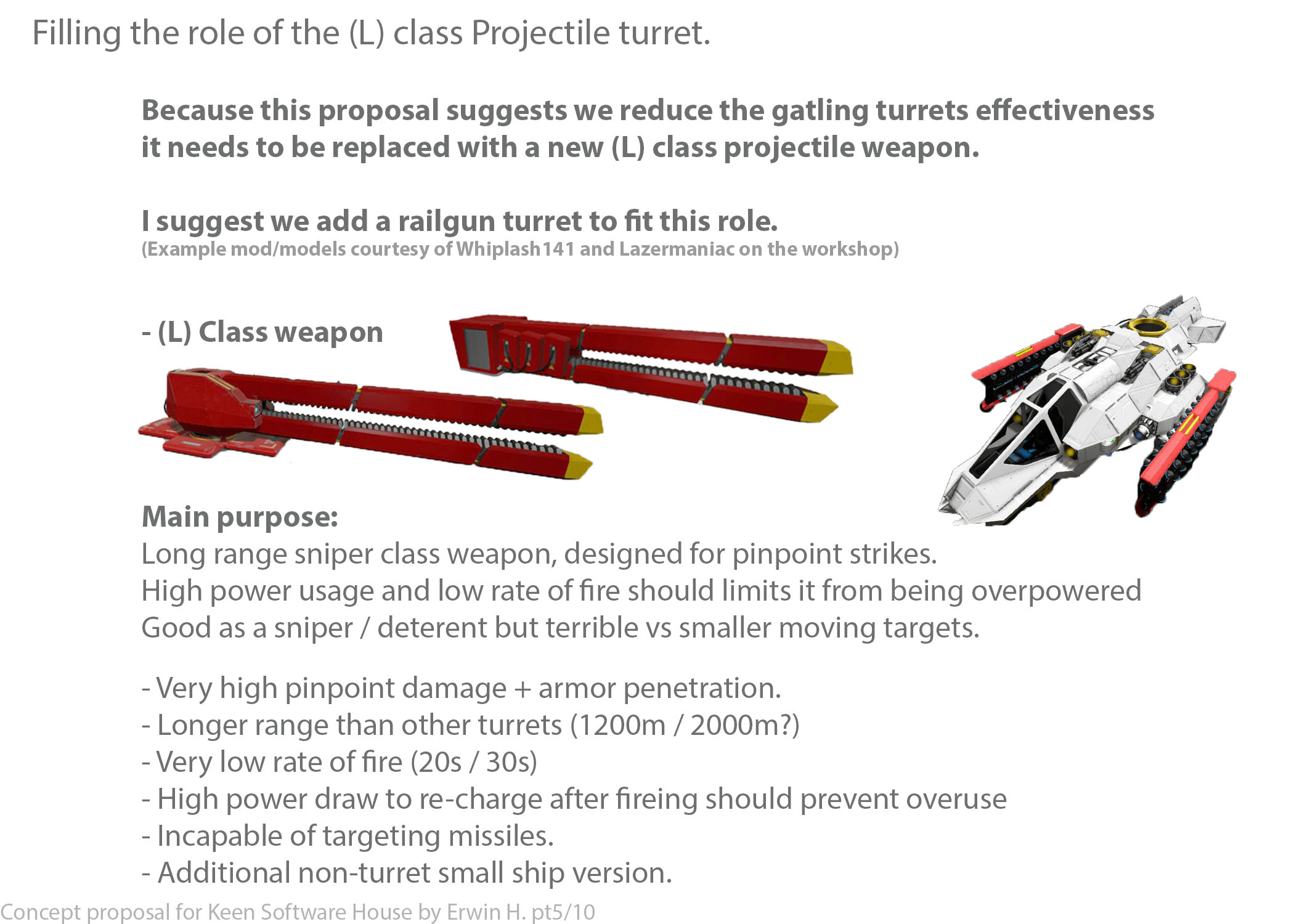 We could also consider a more dedicated defensive weapon for ships that prevents players or missiles from getting too close. I suggest a point defense flak cannon. They would likely eat through ammo quickly and have a very limited range. But their random explosive damage near its target will provide an interesting challenge to players aiming to board a ship. I'm thinking armored boarding craft or drop pods would be needed as long as these turrets are present.
6.Flak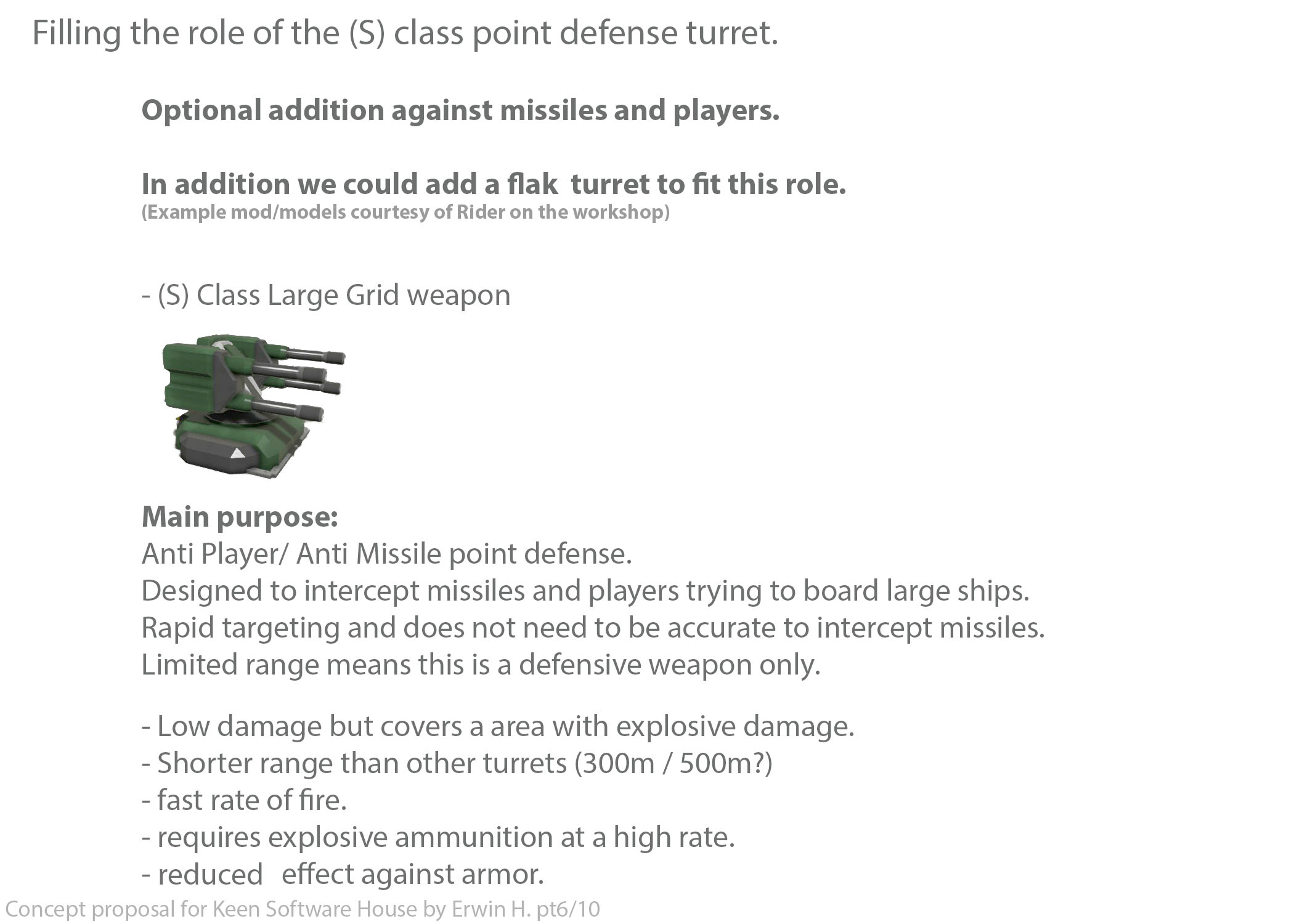 Next we need to look at the remaining weapons.
- Large ship interior turrets are (S) class weapons. Meaning they are not very effective against larger classes and have a much more limited range than than they currently have. But they are very effective as close range point defense and as interior defense. They should probably be placed on the inside of the ship or to protect the hull of the ship from players and landing pods.
7.Other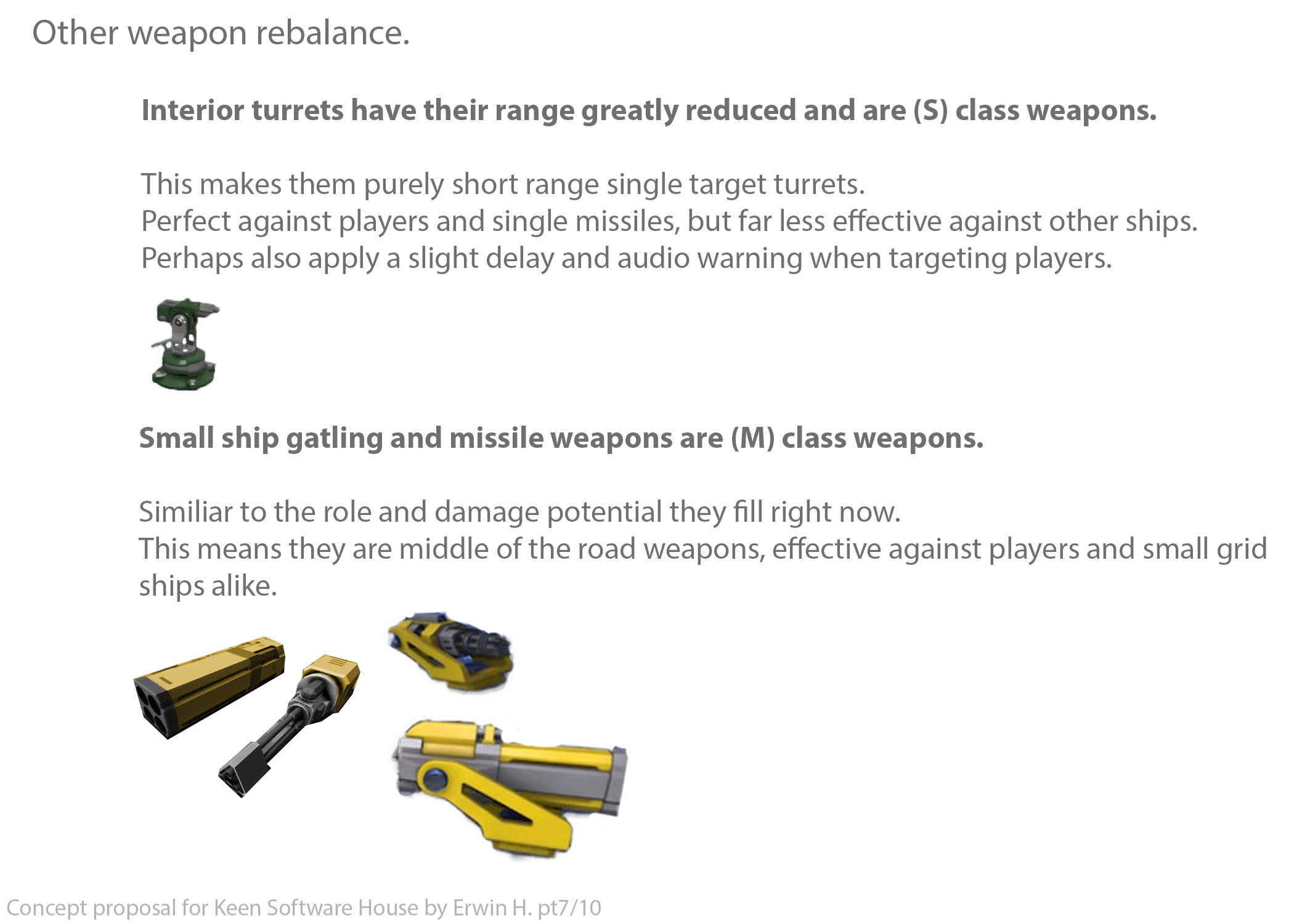 Players need some love too.
Currently any turret can kill a player in 2 seconds flat. However since players are very maneuverable and able to use their jetpack to grind through an enemy ship or base easily we keep this balance. Instead I suggest we add a new type of astronaut suit, or perhaps a body armor variant.
Additionally I suggest we allow players to carry medical components or craft them into medkits so boarders or defenders can heal in between encounters with turrets withou the need for a medbay.
8.Player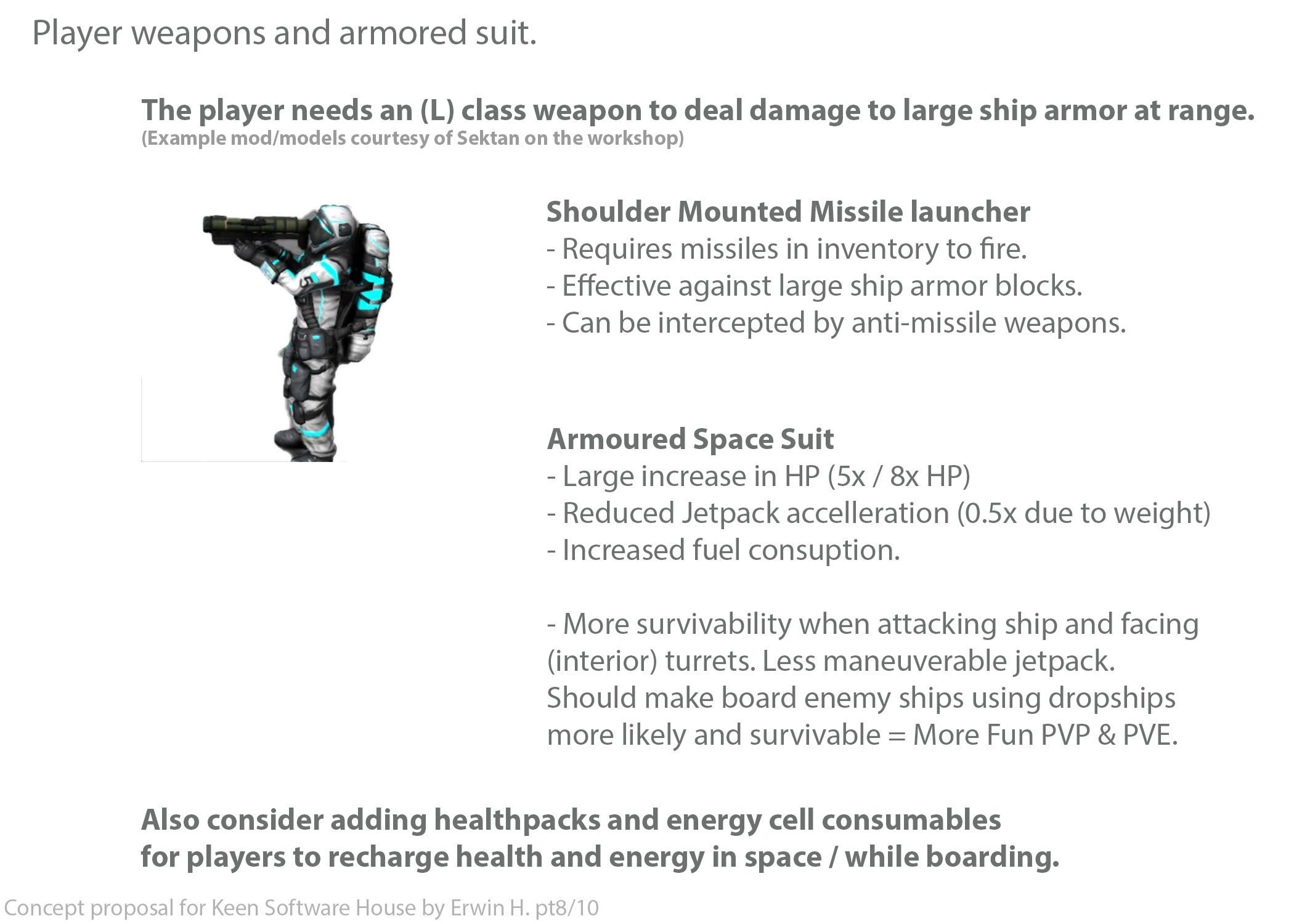 Finally I want to talk about range.
My proposal set out a series of ranges that drives player behavior and ship design to a certain extent.
For large ship battles:
Large ships will first engage each-other at long range with railguns, allowing players to snipe off thrusters or turrets at range.
But their low fire rate allows players to react however they see fit or otherwise jump away if they do not want to engage. They may also fire missiles at one another but the point defense will likely intercept these.
Once the large ships get into gatling range the gatlings will target non-armor objects like turrets and thrusters. Railguns can still target ship vitals by penetrating the armor of the enemy ship.
Missiles may be intercepted at this point, however once the enemy point defense gets reduced by the gatling fire, missiles will be able to connect and do serious damage allowing ships to bombard one another much like your favorite star wars or battlestar scene.
9.Largeship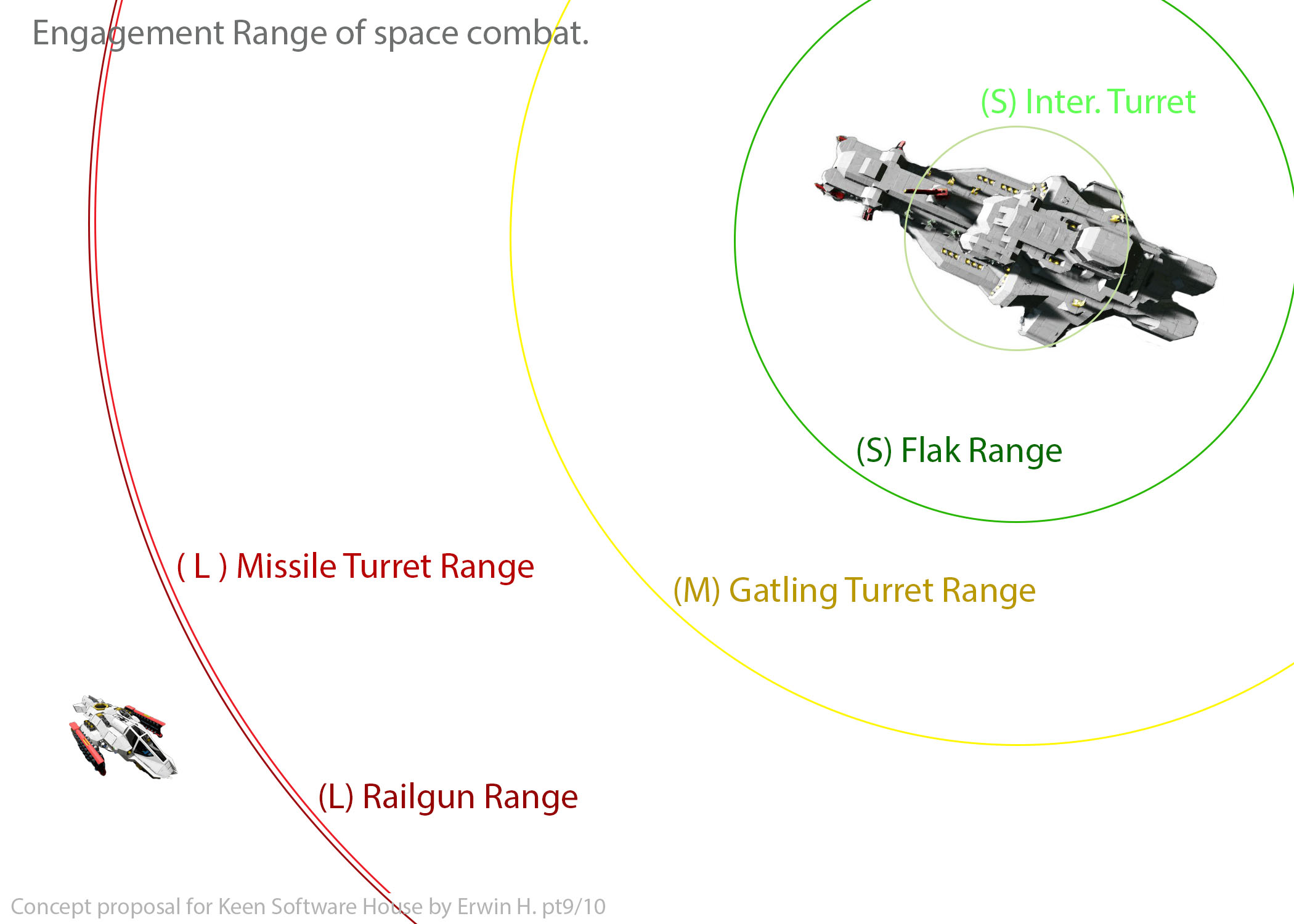 For fighters attacking a large ship:
When players start a fight between a small ship and a large ship, the fighter will first encounter the railgun/missile turret range of larger ships and bases. At this point they can use their own railguns on small ships to snipe at larger targets. this gives the larger target the chance to flee, or counter.
However because rocket pods and gatlings on small ships have a shorter range, fighters will have to approach into the gatling range of the large ship to use their other weapons.
At this range the fighter pilot will have to use dodging skills to keep the large ship turrets from properly tracking him/her. Gatling turrets on the large ship will be able to track better but can still be avoided to a certain extend just like how they work now.
If a player aims to board, they will have to disable the close range point defense on the larger ships out hull or base.
Assuming the player gets inside, they now have armored suits to be able to engage the interior defenses and take the ship. But because of the reduced jetpack capabilities they will be more gravity bound and find it harder to dodge weapons fire.
10.Smallship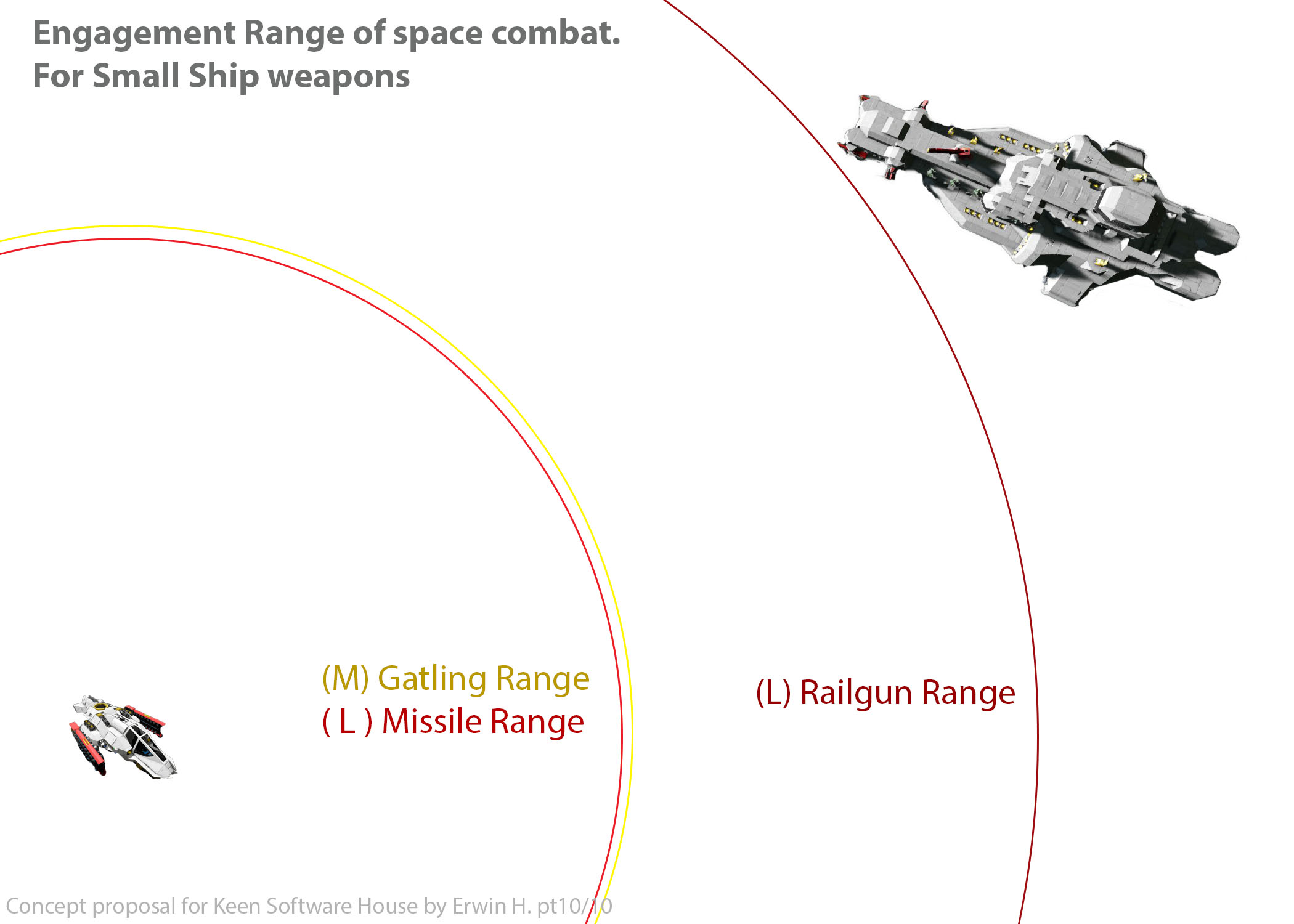 Finally I want to argue about how I believe PVE and PVP are a part of Space engineers.
I do believe we should have some kind of dedicated arena, but in the vanilla game weapon balance is just as important. And currently weapons in the game are so unbalanced and overpowered against smaller classes that in a lot of fights you simply don't stand a chance.
While I understand that this may be considered a lot of new variables in combat. I believe they are intuitive so that even new players can learn to understand them quickly if visualized properly.
The tracking and damage potential changes will make large ships act more like sluggers, while small ships will act like nimble fighter craft meant to dodge and pick off targets or alternatively armored bombing or landing craft that can absorb some damage even from large ship turret.
When a player will see a railgun or flak cannon fire, they will understand its power and limitations.
The changes to engineer survivability will be key to finish off what I've always found a lacking issue in SE, where engineers are too weak to face many of the weapons they have. While I don't think engineers should be footsoldiers by any means, being able to armor up for the occasion with its implied drawbacks should make fights and boarding a lot more interesting.
Please upvote this proposal if you agree.